How to Select a Liquid Nitrogen Dewar
Frequently Asked Questions
Here are the questions to consider when purchasing a container for liquid nitrogen. The answers will determine which Cryofab standard tank is the best fit, and what custom features will make it the perfect container for your cryogenic application.
Q: Do you need a portable container?
A: If so, you'll need a tank with sturdy construction and safety features. If you require a vertical tank, a CL/CLPB dewar is perfect. All models above the 15-liter size have casters for mobility. A differential pressure-type liquid level gauge, full tricock vent valve, and relief devices will safely maintain the optimal pressure within the tank.
For a horizontal tank, see the CH Series. These dewars are fitted with features that make it easy to move, like casters and welded handles. The low profile design and robust support system make these tanks safe and convenient. The CH Series is not designed for over the road transporting, inter-facility use only.
Q: Will you be mounting this container to a truck?
A: The ideal truck-mounted tank would fit into an enclosed vehicle with space left over for other needed equipment. A heavy-duty, thermal-efficient tank, like a tank from Cryofab's CLD/CHD Series, would be perfect for over-the-road deliveries and cryogenic transportation over long distances without the worries of lost product or structural failure.
Q: What are the pressure requirements for your tank?
A: For low-pressure transport and storage, between 10 PSI and 25 PSI, consider our standard portable liquid nitrogen dewars. The CLPB series adds a self-pressurizing system that eliminates the need for external pressurization. If your application requires a Maximum Allowable Working Pressure (M.A.W.P.) greater than 25 PSI, please consult the factory: engineering@cryofab.com
Q: Do you require gas service?
A: For liquid only, consider a standard CL/CLPB Series dewar. If gas service is required, consult the factory: engineering@cryofab.com
Q: Will the dewar be incorporated into a product you will be selling?
A: We can produce white-label liquid nitrogen tanks with custom ports to fit with your product design. We will design a dewar to your specifications. With that prototype, we can manufacture tanks in small or large production runs.
Q: Will you use the liquid nitrogen in your laboratory?
For straight, conventional liquid dispensing, a portable CL/CLPB dewar is an excellent choice. For very basic liquid nitrogen containers, the CF dewar flasks and CFN atmospheric tanks are simple and dependable. Customizations to consider: adding a side neck for access means that the center neck can be used for an experiment, viewports allow for observation inside the dew
Q: What performance do you need from the dewar to meet the requirements of your application?
A: Consider how you will fill and withdraw liquid from the container. Would additional fill ports or built-in transfer lines and valves be useful? 
Safety systems, such as relief valves and pressure gauges are important to most cryogenic systems. Lifting lugs, side handles, and castors make moving the tank easier and safer. See the list below for more possibilities.
Q: Do you have a unique application for liquid nitrogen?
A: We realize that every company has different performance needs. If you need it, we can make it. That's absolutely true, and we'll create a dewar that meets your very specific requirements. It starts with a conversation with our cryogenic engineering experts.
Q: Does Cryofab have containers for other cryogenic gases?
A: The CL/CLPB is an ideal liquid nitrogen tank that works equally well with liquid oxygen or liquid argon. The CH, CLD/CHD, and CFN can be purposed for liquid oxygen and argon as well. CF Series dewars are ideal for liquid nitrogen, liquid oxygen, liquid argon, and liquid natural gas.
We have a wide range of standard containers for cryogenic helium, hydrogen tanks, and superconducting magnet dewars.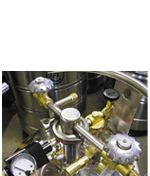 Optional Add-Ons For Your Liquid Nitrogen Dewar
Once an application is established we then might ask or offer any of the following optional additives.
CFUL-4 (4′ cryogenic fill/withdrawal transfer hose, armor casing)
CFUL-6
1″ o.d. phase separator w/hose adapter
Locking casters
Outboard caster configuration
Vertical 1/2″ Withdrawal Port
Gravity Feed Top Port (Allows access to inner reservoir through top)
Dedicated solenoid Outlet, 1/4″ NPT
Removable manifold
Additional Segregated fill/withdrawal valve
Side neck access so center neck can be utilized for an experiment