CLH Series
Liquid Hydrogen Dewar –
Low Pressure Storage & Transport of Liquid Hydrogen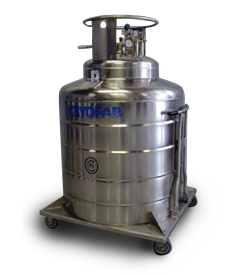 Cryofab's CLH series portable liquid hydrogen dewar is intended for low pressure transport and storage. The operating premise is for conventional straight liquid dispensing, using specially designed transfer equipment and connections. Great effort and detail has been put into the design for the relief/safety system and fill/withdrawal apparatus. The dewars are designed with the lowest possible heat leak in mind without the use of a secondary cryogen. The CLH employs state-of-the art vapor-cooled multishield technology in conjunction with superinsulation to effect the lowest guaranteed loss rates. Materials of construction are rugged stainless steel and all dewars are supplied with casters for easy mobility. Liquid hydrogen can now be transported from large tanker trucks into the lab.
Features of the CLH Liquid Hydrogen Dewar
Features of the CLH Liquid Hydrogen Dewar
All stainless steel welded construction
Robust design
Built-in vacuum insulated fill/withdrawal port
Bayonet connection for low heat leak transfers
Purge ports for safety on all valves
D.O.T. certified 4L50
Bellows sealed vent, pressurization and isolation valves
Compact size
Common vent for piping away relief devices and exhaust port
Select a capacity (liters) to see PDF specifications:
Larger Capacities Available Upon Request
Custom Work Is Our Specialty
Customize It
If you need it we can make it. Contact Us to any of these options to CLH Dewar or to work with our experts to design the perfect container for your needs. Large and small run manufacturing also available.
Call 1.800.426.2186 or fill out our online request form to start designing perfect tank for your application.