Vaccum Insulated Pipe Systems
High Efficiency, Custom Designed System
State of the art vacuum insulated piping systems for liquid gases. Standard and custom bayonets, elbows, tees, crosses, valves and flexible hoses. Cryofab, Inc. is a manufacturer and servicer of cryogenic equipment and accessories.
We can work from your isometric layout to provide vacuum insulated cryogenic pipe systems engineered for ease of installation as well as for optimum insulation efficiency.
Get started today, Call 1.800.426.2186 or email sales@cryofab.com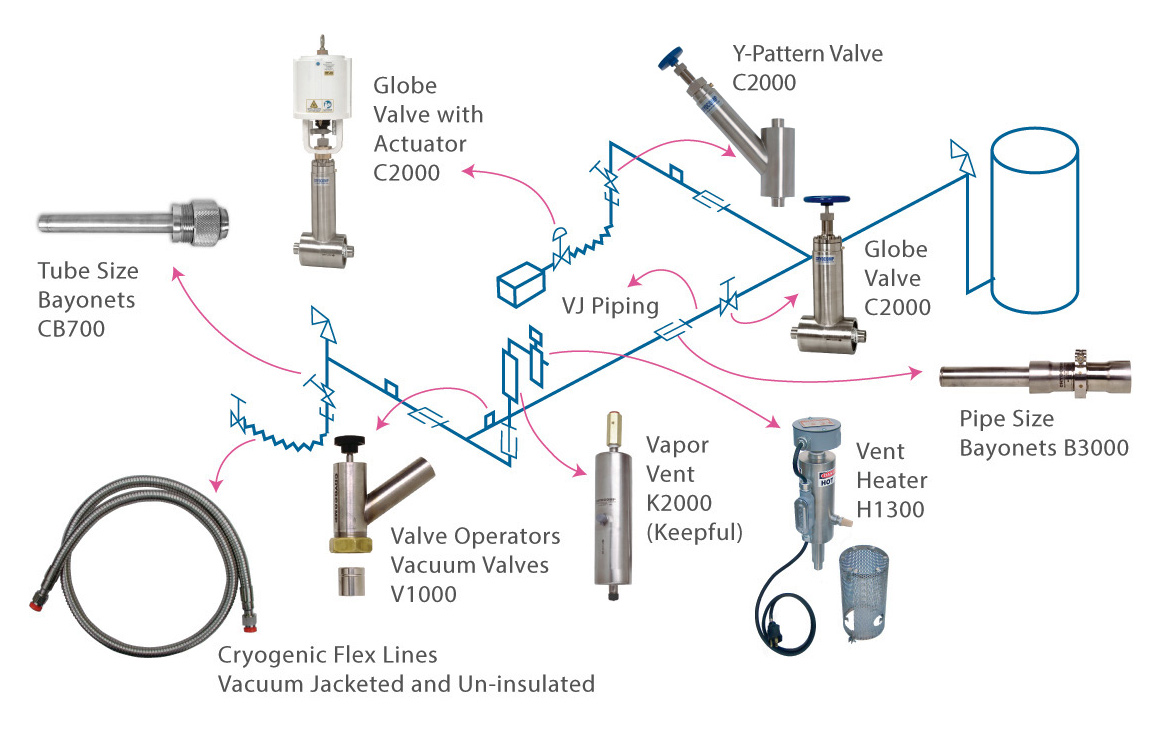 Efficient Vacuum Insulated Cryogenic Pipe Systems
Vacuum systems are much more efficient than "foam-insulated pipe" or "dynamic vacuum" systems for both insulating capabilities and cost-effective operation. See graph, a comparison of heat input from a normal environment into a liquid nitrogen flow stream.*
*Data based on 100 ft. of 1″ inner with liquid nitrogen.
Cryofab Vacuum Insulated Pipe Specifications
Vacuum Insulated Pipe Size
Heat Leak
BTU per Hour
Inner Pipe
Outer Pipe
Outer Diameter
Wt./Ft.
Pipe
Bayonet
.5″
2″
2.375″
2.4 lb
.32/ft
9.5
1″
2.5″
2.875″
3.7 lb
.42/ft
14.0
1.5″
3″
3.5″
4.7 lb
.54/ft
12.9
2″
3.5″
4.0″
5.6 lb
.74/ft
18.6
All pipe sizes shown above are Type 304 Stainless Steel Sch 5 Pipe.
MAWP (Maximum Allowable Working Pressure) of the inner pipe is 150PSI for products listed.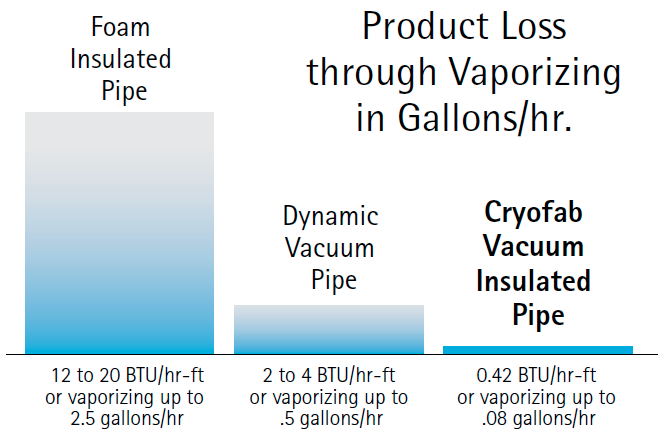 High Quality Vacuum Components – Standard and Custom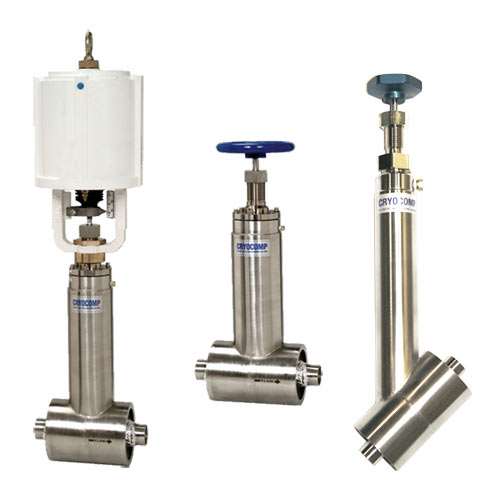 Cryogenic Valves
Reliable vacuum jacketed valves with three body styles and manual or actuated operation
Cryofab Quality
All Cryofab vacuum insulated cryogenic pipe systems are designed, constructed, and tested with the satisfaction of the customer in mind. Every customer order is inspected for conformance to our rigorous specifications before it can be released for shipment. All vacuum insulated cryogenic spools are designed to meet ANSI B31.3 specifications.
Cryofab Experience
Since 1971, Cryofab has been manufacturing "state of the art" cryogenic equipment including vacuum insulated vessels and piping. Experts in the design and fabrication of equipment for the ultimate cold fluid, liquid helium, Cryofab has the ability to custom manufacture high quality vacuum insulated cryogenic piping systems including bayonets, elbows, tees, crosses, valves and flexible hoses.